ProfitFinder® - the economic GPS - an R-net giving a total economic control of work processes.
The system acts as an economic GPS and provides a complete analysis of a company's profit. It follows in that way business processes so that production (products) and market (customers) are connected and that other support services (departments) costs are integrated in these processes.
That allow follow ups from the bottom up and vice versa.
This enables the management to set partgoals in the profit chains in relation to staff responsible for monitoring and control the company's profits.
The sum of all customers profit measured as net margin when all costs are distributed, is equal to the total profit of a company.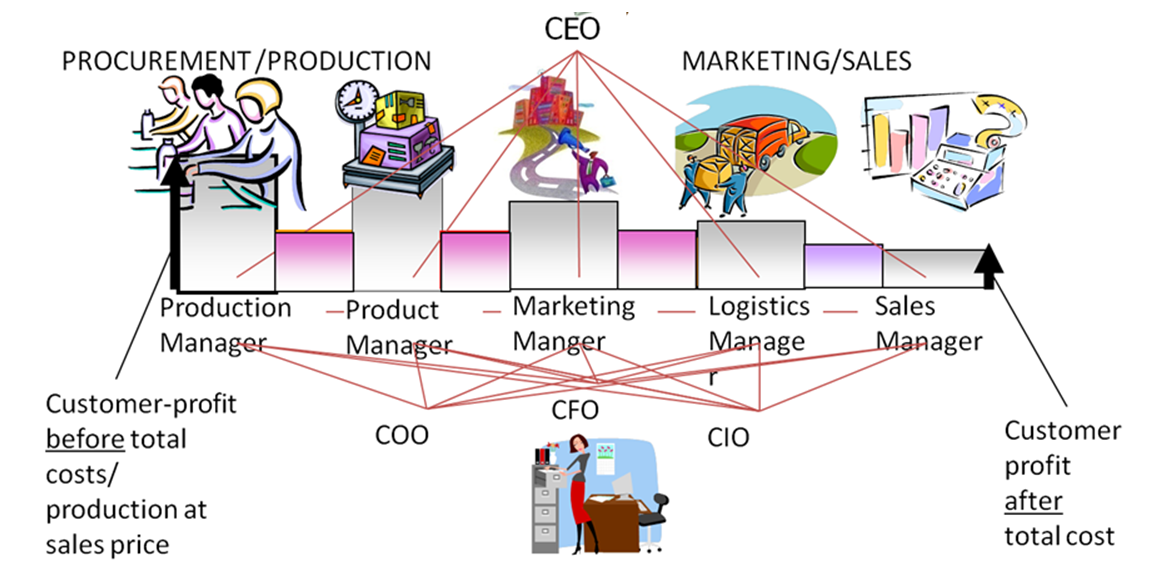 ProfitFinder delivers the following informations:
Profit chains based on the profit per customer - when all costs are broken down on customers, products and resources - to Net Margin.
Profit per customer in the form of profit chains that connect the team from order into the orders out (lower level) and the resource profits from market to purchase / production of the next level.
Product profits, even with a mix of products to specific customer or market, appear before the marketing costs of products in stock, plus sales. Then one knows how much sales costs can be exploited to achieve a predetermined net profit for a customer.
Automatic ranking of profit chains of winners / losers - for customers, customer groups, products, product groups in terms of customer gains in different parts of the profit chain from purchasing / production to warehouse to the customer.
Period Comparison of the total profit chains of any periods of information as above.
There is a posibility to bypass the a customers existing system and report an additional control parallel. When companies move production to low salary countries, there is a need for control to check what the ERP system says. And there are opportunities to create such a monitoring function. As a general rule it is possible that with our technology and in cooperation with the customer to create unique customer-specific solutions based on Profit Finder's platform. It is feasible when the system has a completely open structure.